Business intelligence and advanced predictive analytics are the new normal in today's data-driven enterprise resource planning scenario. With data embedded in every decision, process, and interaction, many top-performing SAP-centric organizations are inclined towards business intelligence and advanced predictive analytics to accelerate their intelligent data-driven business transformations.
From predictive systems to AI-driven automation, these companies aim to strengthen their intuitive self-service analytics capabilities and data-driven approaches to support agile business decision-making in real-time. They also want to improve their data strategies by providing valuable insights at the point of decision.
The SAP Analytics Cloud (SAC) platform comes as a savior to these data-driven companies. SAC fosters continuous operational efficiencies, frictionless user experience, and outstanding performance at minimal disruptions - everything at the intersection of advanced data analytics, data modeling, visualization, and business intelligence.
By providing live access to existing on-premise S/4HANA database implementations, SAP Analytics Cloud ensures smooth data migration to the cloud from the existing legacy systems without compromising business semantics, security, and data integrity.
How SAP Analytics Cloud benefits a data-driven enterprise?
SAP Analytics Cloud, which is a comprehensive analytics platform, enables SAP-centric businesses to quickly analyze mission-critical data, create powerful models from data of all types in a fraction of the time, and visualize in real-time. Using its intuitive user interface, business analysts and data scientists can unlock the synergies offered by this next-generation SAP tool by combining analytics and planning functionalities with core focus on.
At the heart of SAC's transformative capabilities lies the transformative capability to unlock the benefits of data modeling. With SAC, users get access to a comprehensive set of tools and features helpful in unifying large data chunks into a single, meaningful and comprehensive view of the organization's data landscape.
By creating a unified data model, users can quickly identify trends, patterns, and correlations, which may have otherwise stayed hidden within siloed data sources due to poor visibility. As a result, users experience potential benefits like rapid data integration, data accuracy and consistency in data analysis.
What's more? By leveraging advanced data modeling techniques offered by SAC, users can conveniently blend data from multiple sources, optimize processes using a unified (yet accurate) data foundation, and make informed decisions with greater confidence.
Plan vs actual comparison
With SAP Analytics Cloud's robust planning capabilities, it has become quite convenient for users to add more agility in their age-old static planning processes. SAC enables users to unlock transformative benefits of detailed plans, budgets, and forecasts that align with their strategic objectives through seamless integration of actual data for real-time plan vs. actual comparison.
By analyzing the comparison thoroughly, the core decision-makers within an organization can take corrective measures to optimize existing processes. Also, the actionable insights gained against pre-defined plans, budgets, performance trends, or forecasts in real-time, come in handy to bridge the gap between planning and execution strategy while enabling users to respond swiftly to changing market dynamics.
Also, by visualizing the gaps between planned and actual results, users are able to proactively improvise their existing strategies and capitalize on growth opportunities while escaping the potential risks promptly.
Visualization capabilities
The powerful SAC platform takes data visualization capabilities to the next level with its intuitive and interactive interface, which allows users to quickly transform complex datasets into compelling visualizations.
Using SAC's rich set of visualization capabilities, users can embrace an impressive data storytelling approach empowered by seamless data exploration and data presentation benefits, to present data in an engaging and meaningful manner using customizable charts, graphs, and dashboards.
Better communication across teams, collaborative decision-making, and improved business performance are the key benefits of applying SAC's visualization capabilities within an organization.
Exploring SAP Analytics Cloud augmented analytics benefits
SAC platform has a suite of augmented and predictive analytics capabilities that play a vital role in unlocking steller analytics performance and greater business agility with minimal dependency on IT or data and analytics experts. Let's delve deeper and explore SAP Analytics Cloud augmented analytics benefits:
With SAP Analytics Cloud, businesses can maximize the benefits of analytics powered by natural language processing to AI-powered data discovery, analysis, visualization, and prediction. Also, companies can visualize data with a minimal manual intervention using smart insight tools, which combine three machine learning algorithms to automate predictive analysis, resulting in an improved user experience, faster response time for the third-party BI solution, and market-leading performance.
SAP Analytics Cloud best practices to optimize performance
SAP Analytics Cloud (SAC) implementation is a great solution for companies using multiple SAP environments and going beyond the ordinary performance quotient. With SAP Analytics Cloud, SAP customers have the capability to manage multiple analytics applications and processes in the cloud by leveraging the preconfigured functionalities and unlocking improved operational efficiency through:
To gain valuable improvements in performance and usability, the proper data model plays a vital role. Obsolete data models may result in duplicate administration, along with integrity, compliance, and latency issues. With SAP Analytics Cloud, users can create a star schema or snowflake schema data model with properly defined relationships between tables.
What's more? Using a drag-and-drop interface offered by SAC, users can create visually compelling elements, including models, reports, and visualizations, from scratch or use an existing model as a starting point. The best catch is users can connect all user data sources to a variety of data sources, including SAP HANA, SAP BW/4HANA, SAP S/4HANA, and many other databases.
As the name suggests, data aggregation is the crucial process of summarizing business-critical datasets per specific dimensions and measures underpinned by numerous aggregation functions, including sum, average, count, minimum, maximum, and distinct count. Grouping data into meaningful categories using SAC significantly improves the query response times and overall performance of data queries by quickly pre-calculating and storing aggregated data in memory.
SAP Analytics Cloud supports aggregation at various levels, including time, geography, and product hierarchies. Let's delve deeper into different types of data aggregation:
To aggregate data in SAC with minimal disruption, use the "Aggregation" option available in the "Data Preview" panel and now choose the desired dimensions/measures. Improved performance, simplified data analysis, and reduced data redundancy are the core benefits users can gain after successfully grouping data.
A high capacity for frictionless analysis and reporting is a prerequisite. As a key enabler, SAP Analytics Cloud helps analyze large datasets and provides real-time actionable insights to make informed decisions. SAC provides various functionalities such as data compression, partitioning, and caching to optimize performance and reduce the risk of data processing failures.
Interestingly, SAC can handle millions of data rows without making zero compromises on performance and speed. Also, this powerful cloud-based analytics tool can integrate data from multiple sources, including SAP and non-SAP systems. And by bringing together all the business-critical datasets from various sources at a single platform, it enables users to create a comprehensive view of data, trends, and patterns.
To drive seamless data-driven decision-making capabilities within an organization, it is crucial to establish a frictionless connection between people with expertise from different areas. SAC streamlines the process of data connectivity by enabling users to connect their on-premise and cloud data sources using live data connections and data replication (also known as acquire/import data connections).
Once data is connected to SAC, users can extract, transform, and load data to create models, reports, and visualizations with greater flexibility for analysis and reporting. SAC also provides data transformation capabilities, allowing users to cleanse, enrich, and transform data before using it for analysis.
What's more? SAC supports various data connections, including direct connectivity to SAC also supports live data connections, which enable users to access data in real-time, and data replication, which allows users to replicate data from various sources into SAC for analysis and reporting.
Data caching in SAP Analytics Cloud plays a significant role in performance optimization, faster retrieval, and reducing the risk of running out of memory by storing frequently accessed data in memory. SAC allows users to configure caching settings, including cache expiration time, cache size limits, and data source-specific caching settings.
When a user accesses a dataset or runs a query, SAP Analytics Cloud fetches the data from the underlying data source and loads it into memory for processing. Subsequent queries to the same data can be retrieved from the cache rather than fetching the data from the source again. This can significantly improve query response times, especially for large datasets and complex queries.
To maximize business performance, data planning plays a pivotal role. SAC helps to streamline the process of gathering data from multiple fragmented sources and harmonize data sources to ensure data sets are clean, consistent, and relevant.
With SAP Analytics Cloud, users can minimize data redundancy and optimize data structures with minimal processing time by leveraging SAC's.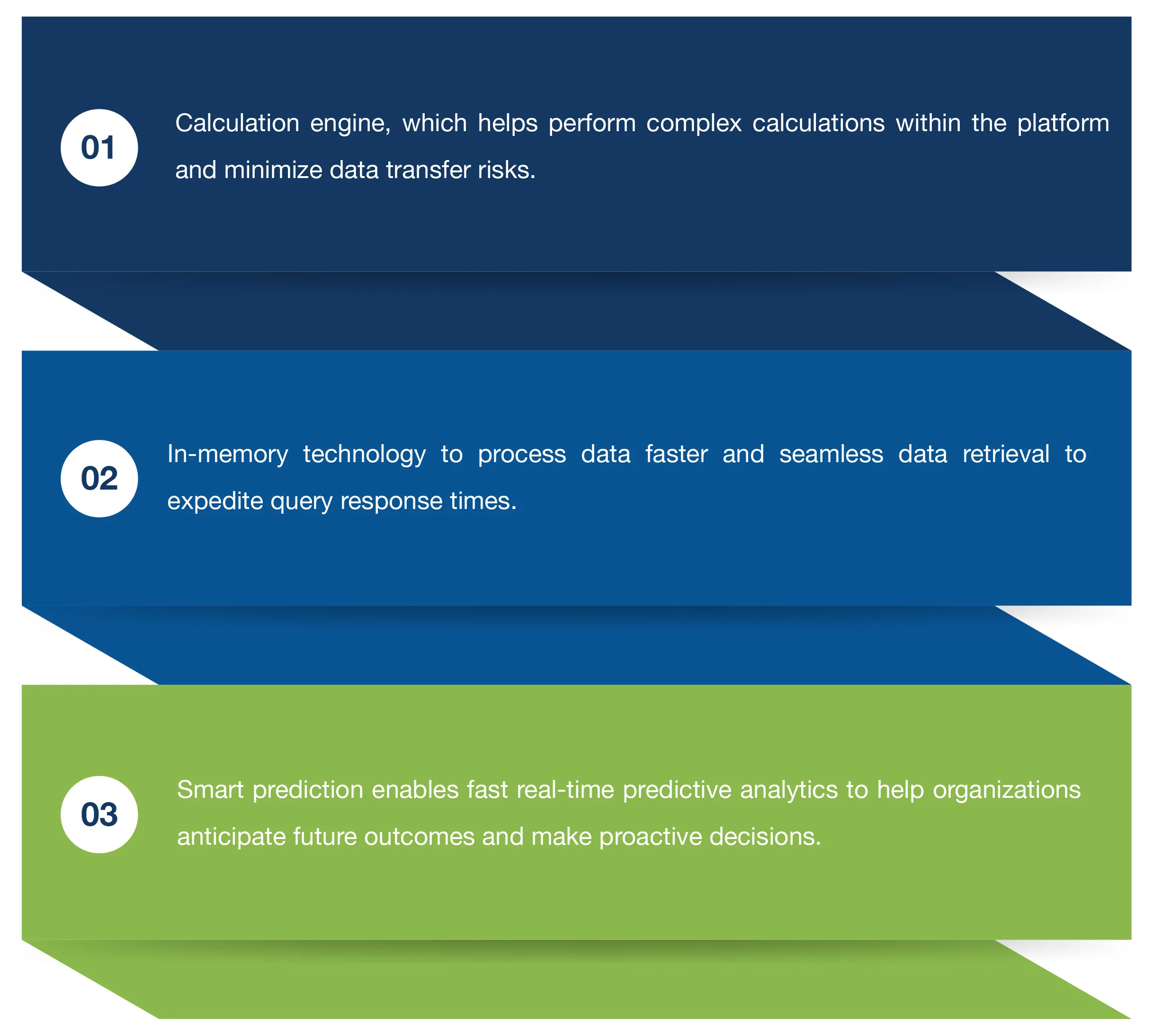 Accelerate your business intelligence with Kellton
Indeed, SAP Analytics Cloud is a way forward to drive a seamless user experience with embedded analytics and provide instant access to actionable insights. Kellton, your trusted SAP partner, drives greater agility, intelligent enterprise transformation, and data connectivity by delivering end-to-end SAP Analytics Cloud services. We make sure you never miss out on the transformative potential of modern ERP technology, planning capabilities, and predictive analytics to achieve higher operational efficiency, improved user-oriented experience, higher business adoption, reduced query response times, and better visibility.