SAP Business Technology Platform, a.k.a SAP BTP, enables a comprehensive, unified environment—powered by application development, integration, automation, analytics, and artificial intelligence (AI) capabilities—to help enterprises personalize experiences, improve bottom-line efficiencies, and unleash innovations confidently on the cloud.
Using SAP BTP, enterprises gain a winning edge to build, scale, and enrich mission-critical applications at the speed of change, as well as integrate these applications into existing apps, processes, and data sources. BTP strengthens collaboration and decision-making at the core as it unlocks a 360-degree view of the business and enables stakeholders to see all the data and reporting in one place.
Furthermore, SAP BTP helps enterprises pivot to innovate faster and meet the skyrocketing business demands with AI and Machine Learning at the core of it. As the technology allows professionals to leverage modern technology—combined with the right blend of tools, no-code/low-code solutions, analytics, and proven best practices—they unlock new streams of agile value and meet change with a competitive advantage.
All in all, BTP empowers the 'innovation DNA' of an enterprise and embeds agility in its fabric. It provides a foundation for accelerated digitalization within a governed environment and leads enterprises to become intelligent in every sense of the word.
The four pillars of SAP BTP
1. Data Management
SAP BTP embeds data into the nucleus of an enterprise by establishing a foundation for seamless, real-time data integration, compliance, and governance. The technology ensures end-to-end intelligent Data Management that involves:
Streamlining data discovery and cataloging in a centralized ecosystem.
Unleashing a single source of truth across distributed landscapes.
Implementing accuracy and consistency over the entire lifecycle of data.
SAP BTP, to recapitulate, helps enterprises optimize the key aspects of data management across their SAP and non-SAP systems and guides them toward their journey of intelligent transformation.
2. Analytics and Insights
By driving an enterprise data ecosystem, SAP BTP transforms data as an 'operational accelerant.' Leveraging the power of data combined and running in the veins of their organizations, decision-makers gain insights at a cellular level and take strategic action to meet change with agility.
So, SAP BTP leads enterprises to build more on their fundamental data initiatives while transforming how they apply intelligence within and across functions.
3. Application Development and Integration
Packed with modular automation, integration, and low–code/no-code development capabilities, BTP acts as a potent driver of business productivity and innovation. It allows professionals to build production-ready applications, integrate between cloud, on-premise, SAP, non-SAP, and third-party landscapes, and orchestrate an intelligent operating model.
SAP BTP brings together a broad suite of pre-built data models, workflows, integrations, content-rich APIs, and AI business services to allow organizations to quickly build, deploy, and scale applications designed for their line of businesses (LOBs) and industries.
4. Intelligent Technologies
Organizations stand to benefit from a thriving IoT, AI, and machine learning ecosystem that constitutes SAP BTP. With capabilities to manage the AI model lifecycle in one centralized location, leverage pre-trained AI models, set IoT modules in use, and proven best practices; organizations can bring a step-change in the efficiency and effectiveness of business operations.
Integrating modern technologies in SAP BTP is a key offering to gain end-to-end process visibility, manage decision logic, and automate processes for competitive gains.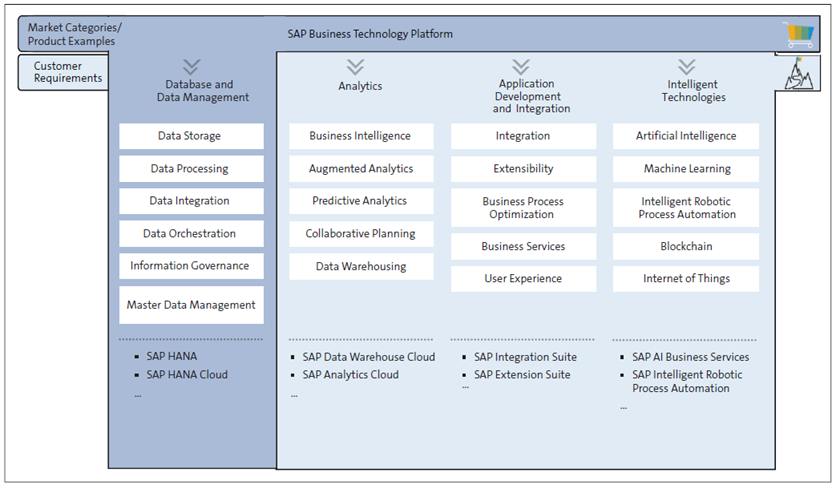 The Four Pillars of SAP BTP (Source: SAP)
Tread your path to becoming a 'hyper-intelligent' enterprise with SAP BTP
SAP BTP is a modular platform built to lead enterprises toward the path of intelligence by transforming people, processes, and technology through unlocking a data-driven, digital-first mindset. SAP BTP delivers optimal results across five critical aspects:
1. Business Process Improvement
To enhance process efficiencies and the quality of operations has always been a clarion call for organizations. Through its multitude of capabilities—distributed across automation, integration, and orchestration domains—SAP BTP helps create a robust digital core and build differentiated value chains and extensibility at scale.
While data management helps in governed, self-service data discovery, modeling, and management, professionals can leverage IoT, A//ML, and analytics to gain deeper insights into all aspects of business and shape decisions with long-term value. Exploiting these capabilities can further help digitize workflows, improve processes' efficiency and accuracy, and reduce costs.
2. Customer Engagement
With SAP BTP, enterprises can unlock a single view of customer data across multiple channels and systems and thus, opening new horizons for personalization and customer traction. Hands-on data can help them look into changing market nuances, build products/services with the right resonance, and meet market expectations for profitability and sustainability.
Data can further help create and execute personalized marketing campaigns and track their effectiveness. Additionally, BTP provides an offering that enables you to build conversational interfaces (chatbot, voice bot) using AI/ML capabilities, which can be integrated with e-commerce platforms, mobile apps, social media, and messaging platforms for customer engagement.
SAP BTP can help enterprises go from 'reactive' to 'proactive,' and it's a big change of pace.
3. Incremental Innovation
SAP BTP can surcharge innovation across an enterprise by enabling a connected, automated, and self-governed ecosystem to rapidly develop, test, and deploy new features and capabilities. With the power of the cloud, new-age technologies, and ecosystem connectivity, enterprises gain confidence to operate and scale with greater agility, expand innovation streams, and enter new markets with an even better value proposition.
Real-time data and actionable insights can further help enterprises pivot in the right direction to address disruptions and make incremental improvements to the strategic roadmap for resilience.
4. Transformation Beyond SAP
SAP BTP allows enterprises to bring their non-SAP estate into the BTP fold and derive more tangible benefits from a hyper-connected ecosystem. The technology lets professionals mount other vendor tools, such as Salesforce, AWS, Azure, SQL Server, custom applications, and many more, on SAP BTP to create synchronized workflows and consistent value.
5. Native Integration
Using BTP, enterprises can do away with the need to develop custom code to connect with S/4HANA. A seamless integration of BTP with other SAP solutions, including SAP Concur, SAP Ariba, and more, is also possible. Thanks to interfaces and the SAP Cloud Connector, all it takes is a plug-and-play approach to connect SAP solutions in BTP and raise an intelligent enterprise with uniform experiences across all applications as a sure-shot benefit.
Capitalize on SAP BTP: Reframe the game
No wonder it is the right time to transition to SAP BTP (Business Technology Platform) for a variety of reasons, such as the need to modernize legacy systems, the desire to take advantage of the latest technology and features, or the requirement to support remote and distributed work better. Additionally, SAP BTP can help organizations streamline business processes, improve data management and analysis, and increase efficiency and collaboration. Ultimately, the decision to transition to SAP BTP should be based on an assessment of the specific needs and goals of the organization.